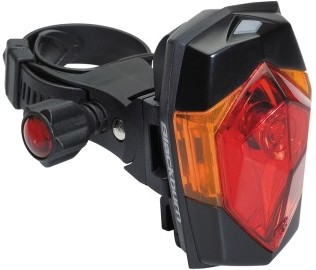 50h

reported battery life
flashing mode
no pulse mode
1 brightness levels
internal AAA batteries
removable battery
Included mounts: Seatpost, Fender
Review:
One of the brightest and most affordable AAA-powered lights
Review by Nathan Hinkle, March 5, 2012, midnight
I've rarely seen Blackburn lights in the wild, but according to my poll, they're fairly popular, so I thought I'd give one a try. The Mars 4.0 is Blackburn's latest taillight offering, powered by a central 1W LED, and an amber mini-LED on each side.
The Mars 4.0 has only two modes: solid, and blinking. The blink mode isn't particularly exciting – just a slow on/off, but what it lacks in flashiness, it makes up for in brightness: the Mars was the 2nd brightest light (from the front position) tested. Despite having additional side-LEDs, the side visibility was not any better than similar lights – the miniature amber lights were dim and hardly visible from a distance.
The mounting mechanism for this light is versatile, if a bit overcomplicated. It requires no tools to attach, although you'll need a screw driver if you plan to rotate the the light clip to keep it oriented vertically. Why it doesn't come in that orientation by default beats me. The mount uses a flexible plastic strap, which can be adjusted to almost any seat post width, and is kept tight by a large tool-free plastic screw. The kit also includes a rack mount, which I did not test specifically.
I wasn't a huge fan of the Mars 4.0, mostly because it lacks an attention-grabbing strobe mode and has a slightly fidgety mount, but it's definitely one of the brightest lights you can get for $20. If you're looking for a very bright light for cheap, this may be a good option for you.