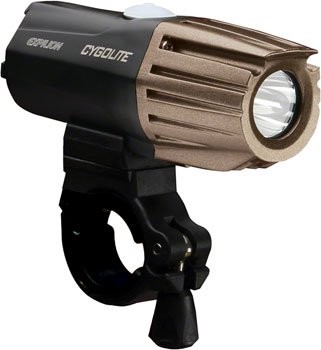 700

claimed lumens

1h 30min

reported battery life

2h 00min

measured battery life

Spot/flood
140 g
flashing mode
no pulse mode
5 brightness levels
discontinued
internal Lithium batteries
low battery indicator
removable battery
mini usb rechargeable
Included mounts: Slide-on, Helmet
The Expilion series is Cygolite's high-end single-piece lighting solution. With output up to 800 lumens on some models, the Expilion series competes with expensive external-battery lights at a very competitive price. All Expilion series lights feature a quick-swap removable battery which is USB rechargeable. All Expilion lights released since Fall 2013 feature both a "steady-flash" mode where the light flickers briefly while maintaining a steady beam to light your path, and a "day lightning" mode which boosts the output and uses rapid flashes for daytime visibility.
Review:
A high-performance headlight at a competitive price
Review by Nathan Hinkle, Sept. 12, 2013, midnight . Updated Oct. 18, 2013.
Pros:
Very bright (adjustable brightness).
USB rechargeable.
User-replaceable li-ion battery.
Unique steady-flash pattern: the light stays in steady-burn mode, but pulses off and back on quickly 3 times in a row about once per second. I'll have a video of this in the final review - it's a nice compromise feature if you want to grab drivers' attention but not give people seizures.
Update, October 2013: All of Cygolite's headlights, including the Expilion series, have a new feature called "day flash," with rapid high-intensity flashes designed to be visible even in daylight. This mode is not recommended for use at night since it would be too blinding - the steady-flash pattern is designed for nighttime use - but is encouraged for staying visible 24 hours a day.
Excellent beam spread: this light throws pretty far, but also has a good spread so you don't get a tunnel effect from too much light being puddled in one place. The side-visibility isn't great in terms of being a be-seen light, but enough light spills out that it shouldn't be a big problem.
Cons:
Frustrating mount: the mount is completely rigid (no rubber or silicone here) and can only be adjusted (by a plastic clip-in spacer) to "thick" or "thin" handlebars. The mount comes loose relatively quickly, and must be frequently re-tightened. The mount also rotates, which is handy for lighting up curves, but the light often slides from side to side when you want it to just face forwards. ![cygolite's mount][1]
Very bulky. This is likely due in part to the removable battery, but the Serfas 500 manages to have a removable battery without being so large.
The Expilion 700 has been superceded by the Expilion 680 and 800. I haven't tested either out yet, but I think the 700 lumen version is sufficient for most users. The Expilion 600 is also still available, often for a slightly lower price, and is again plenty of light for most users.