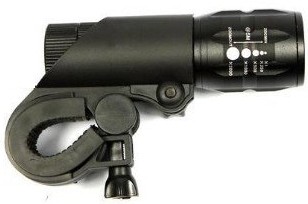 240

claimed lumens

110

measured lumens

5h 00min

reported battery life

6h 00min

measured battery life

Spot

Made in CN
flashing mode
no pulse mode
2 brightness levels
internal AAA batteries
removable battery
Included mounts: Slide-on
Review:
Cheap, and you get what you pay for
Review by Nathan Hinkle, Sept. 12, 2013, midnight
Pros:
Very cheap.
Also doubles as a flashlight.
Flashing mode is decent (similar to Planet Bike's Super Flash mode).
Adjustable lens zoom changes beam from a small spot to an even smaller spot.
Cons:
Mount is absurdly large and not very stable.
Uses 3 AAA batteries in a little canister with small contact area. Sometimes while riding the light flashes off for a moment when riding over bumps, because the battery holder loses contact.
The adjustable lens is almost pointless, because the beam is too tight even at the widest setting.
Overall build quality is mediocre at best.
No voltage regulation, so the beam gets significantly dimmer as the batteries drain.
Actual lumen output is less than half of claimed output.
This is another off-brand light from China with a high brightness claim and a low build quality. Although the price makes it tempting, the overall cost of ownership will be higher when you factor in how quickly it goes through AAA batteries, and I don't trust this light to last very long.