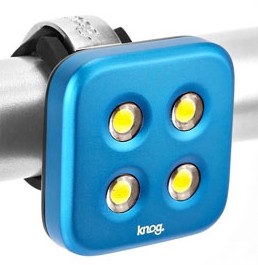 80

claimed lumens

3h 00min

reported battery life

3h 40min

measured battery life

Be-seen
39 g
flashing mode
pulse mode
1 brightness levels
internal Lithium batteries
low battery indicator
rechargeable
Knog's blinder series are mid-level safety lights, putting out more light than their basic wrap-around lights but not enough to illuminate the entire road, like their Blinder Road and Arc series lights. Most Blinder lights are made out of metal with a silicone backing that wraps around the handlebars and snaps in place with a small clasp, adjusting to almost any handlebar shape or size. The lights are all rechargeable with a built-in USB plug that folds out of the light — no cable required.
The Knog Blinder 4 comes in several different designs, each with 4 wide-angle LEDs arranged in a square. The light has a steady burn mode as well as various flashing, pulsing, and strobing options.
Review:
Compact and versatile light for being seen
Review by Nathan Hinkle, Sept. 12, 2013, midnight
Pros:
Good flash patterns for daytime and night visibility. I would recommend using one of the strobing patterns during the day, and the subtler pulsing pattern at night. There is also a solid-on mode that provides some illumination, but this is definitely a be-seen light.
USB rechargeable, with built-in USB plug.
Versatile built-in wrap-around mounting system (can be a con, but on most bikes it should be easy to mount, and it transfers quickly).
Four LEDs gives it a larger illuminated surface area.
Cons:
Relatively expensive for the amount of light you get out.
USB charging clip is attached to the light, making it hard to plug in to some USB ports. On one hand, having the USB plug built in is convenient because you never have to worry about having the right cable, but it's no use having the plug if you can't fit the light into an outlet. Some Knog lights come with a USB extension cable to alleviate this problem, but the Blinder 4 does not.