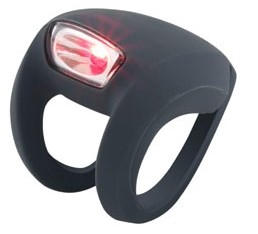 3

claimed lumens

40h

reported battery life
19 g
flashing mode
pulse mode
1 brightness levels
internal CR2032 batteries
removable battery
Knog's Frog series lights are the original "itty bitty silicone lights", designed to wrap around the handlebars for quick removal. These lights are best used as a backup light just in case you get stuck out at night — they're not designed to light up the path and likely aren't bright enough for frequent night time rides. They are cheap, portable, and easy to use though, making them a good choice for a light to keep in your bag just in case for when you aren't expecting to be out at night.
Review:
One of Knog's many cheap, low-power options
Review by Nathan Hinkle, March 5, 2012, midnight
The Knog Frog is a bit of an outlier – it's small, attaches to almost anything by wrapping its little rubber strap around and hooking onto itself, and it's powered by two little CR2032 batteries, instead of normal AA or AAAs. It's tiny, cheap, and brighter than I expected – but still puts out the least light of any of lights I tested. At $10 for the light and about $3 for a CR2032, it's almost cheaper to buy a new one each time (batteries included) instead of replacing them. This light was dimmer than even the very cheapest flasher I could find on Amazon (reviewed below), and given its expensive non-standard batteries and low output, I don't particularly recommend it. Unless you really need to wrap it on something which you just can't fit a normal light on, the Frog is not the best deal, and its popularity perplexes me.