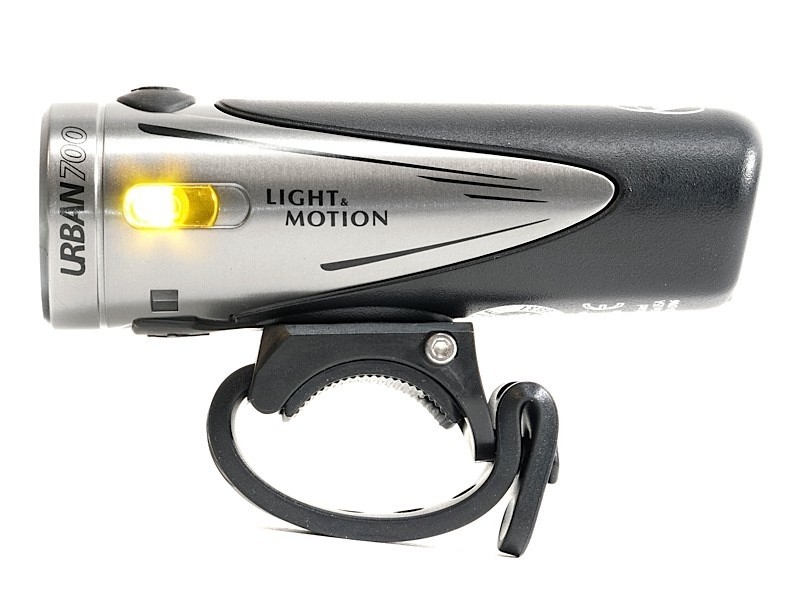 700

claimed lumens

1h 30min

reported battery life

1h 40min

measured battery life

Flood

Made in USA
112 g
no flash mode
pulse mode
3 brightness levels
discontinued
internal Lithium batteries
battery level indicator
micro usb rechargeable
Included mounts: Strap, Helmet
Light and Motion's Urban series is their flagship commuter light, with options ranging from the entry-level Urban 200 to the high-performance Urban 700. Although thoughtfully designed with a commuter's needs in mind, these lights are also well suited for off-road and singletrack use.
Series review:
Urban Series general review
Review by Nathan Hinkle, Sept. 12, 2013, midnight
Pros:
Excellent optics – wide beam lights up the whole road. It's not just about how much light, it's about where you put it, and the Urban light puts it everywhere.
Additional amber LEDs for side lighting makes it a great be-seen light, too.
Easy on/off rubber strap mount makes transfering between bikes much easier than lights with a clip-on mount.
USB rechargeable.
Includes helmet mount.
New button lock-out mode that prevents the light from turning on in your pack by accident.
Cons:
Relatively expensive (although I think it's definitely worth the price).
The pre-production unit of the Urban 550 I received had some minor issues with charging, but these have been resolved in the final version sold to customers.
Mounting strap may not be durable long-term, but it is user replaceable.
Review:
Improvements to the Urban series optics and performance
Review by Nathan Hinkle, Oct. 6, 2013, midnight
Differences compared to the Urban 550:
Brightness: I went for a night ride with the 550 and 700 side-by-side, and alternated between using them. Initially it seems like the Urban 700 is only slightly brighter - and at the center of the beam, that's true. However...
Reflector design: The Urban 700 introduces a new reflector design with what L&M calls "micro peens" to reflect light to wider angles. The center of the beam is brighter (though not much) than the previous generation, but way more light gets spilled to the sides, and lights up an even wider path. The Urban 550 was already had some of the best optics for spreading light across the entire road or trail; the Urban 700 takes it even further by pushing light almost 180 degrees.
Battery life: Despite pumping out an extra 150 lumens, the Urban 700 actually lasted 5 minutes longer in the battery test than the 550 did. Advancements in LED efficiency mean that extra brightness won't sacrifice battery life.
Flash mode: The Urban 700 replaces the flash mode with a pulse mode. This is nice at night since it's a bit more eye-catching than no flash at all, while still illuminating the road and not giving you a headache. However, I wish L&M hadn't eliminated flash mode completely, since it's far less visible during the day than the original strobing flash mode was.
So far, the Urban series has been one of my favorites. Starting this fall, all L&M Urban lights have a new button lockout mode: press and hold the power button for 6 seconds, and the button locks so that it won't turn on if bumped in your pack. To unlock, press and hold for another 6 seconds. The new Urban 700 I tested has this feature, and as a student with lots of items in my bike bag, it's been a welcome development.
Previous years' Urban lights are also always available at a lower price. Right now you can get an Urban 400 - which would still be more than enough light for most people - for just $86 on Amazon. This may be one of the best deals you can get on a headlight, and expect the price on the Urban 550 to go down as the new 700's become available.