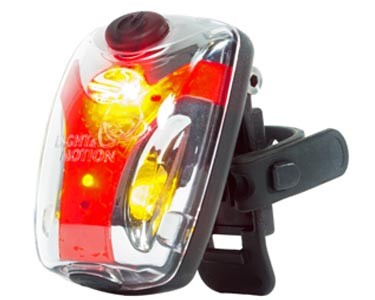 25

claimed lumens

30

measured lumens

4h 00min

reported battery life

4h 15min

measured battery life
61 g
no flash mode
pulse mode
1 brightness levels
internal Lithium batteries
battery level indicator
micro usb rechargeable
Included mounts: Strap
Optional mounts: Rack
Review:
A cheaper version of the Vis 180 - in price and quality
Review by Nathan Hinkle, Sept. 3, 2013, midnight
Pros:
Wide-angle visibility and additional amber side LEDs. Like the Vis 180, the numbers are misleading: while this light isn't as bright straigt-on, its visibility at all other angles far surpasses any other light in this price range.
Cheaper than the Vis 180 while retaining the same great optics.
Mounting mechanism is built into the light, so you can use it on any bike.
Cons:
Built with plastic, and feels less sturdy than the aluminum Vis 180 (the build quality was still decent, and no worse than the average light, but definitely was not as good as L&M's other products).
Mount is supported only by a strap built into the light, and it is difficult to take off/put on the light. This is frustrating if you park your bike in a public location where lights could get stolen and like to take your lights with you, and the light also moves around a lot.
No battery level indicator to warn you when the battery's getting low.
The button on the first review unit I received was sticky, making it very hard to turn the light on and off. The button finally stopped working altogether, and I had to leave the light turned on until the battery completely died. Light and Motion did replace the entire unit at no cost, and the replacement has not had this problem (so far), but the Vis 180 Micro definitely has lower build quality than the Vis 180. While most of L&M's products stand out for their superior quality, this light feels a lot more like any other generic bike light in this price range. It's worth noting though that L&M's customer support was extremely prompt and helpful.