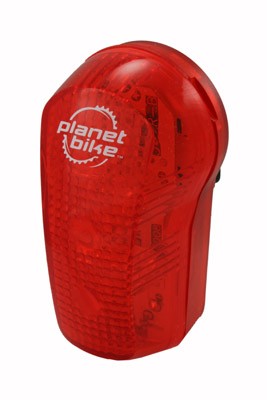 76 g
flashing mode
no pulse mode
1 brightness levels
internal battery batteries
removable battery
Included mounts: Seatpost, Stay
Optional mounts: Rack
Review:
Side visibility at a low price
Review by Nathan Hinkle, March 5, 2012, midnight
The Blinky 7 comes in the same shape as the Super Flash and Turbo, but instead of a large high-power LED, it has 7 lower power (but still bright) LEDs arranged in a circular array. Three face directly to the back, and two on each side faces out at 45 and 90 degrees. This gives the light a claimed 220 degrees of visibility. The light is not particularly bright in any one direction, but does have better side visibility than some lights. Although I wouldn't recommend it as a primary light, it makes for a decent secondary light if you use two lights at once, as recommended.