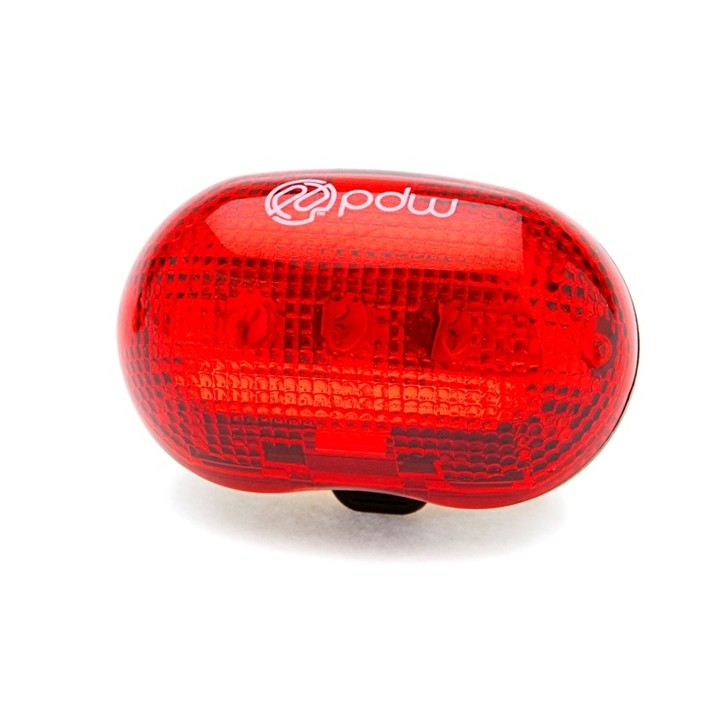 45 g
flashing mode
no pulse mode
1 brightness levels
internal AAA batteries
removable battery
Included mounts: Seatpost, Stay
Review:
Standard 5-LED blinky
Review by Nathan Hinkle, March 5, 2012, midnight
The Red Planet is PDW's cheapest light, at $15. It has five 5mm LEDs, much like the PB Blinky 5, but has only 3 facing directly back, with the other two at exactly right angles. Its brightness readings matched up pretty closely with the Blinky 5 as well, placing it squarely in the "not super bright but works" category. It has two flashing modes – a standard blink, and an alternating side-to-side which only flashes one LED at once. The latter is a bit of a gimmick – having only a single LED on at once severely diminishes the brightness, and leaves you without any rear-facing LEDs illuminated when either of the side-LEDs are going. A seat post and stay mount are both included mounting options.
With the side-mounted LEDs, this light does give off a very bright side profile, emitting 1000 lux at a 90 degree angle. The light has pretty poor visibility from anywhere between straight-on and the right angle though. Getting the batteries out was also a pain – the contacts seem to be very tight, and it's hard to get a grasp on the batteries.
Although it's bright for such a cheap light, if you're looking at a light in this price range, I frankly think you'd be better off with Planet Bike's Blinky 5. It's about as bright from the front, and slightly dimmer from the side, but also includes a built-in reflector and a rack mount. The Red Planet does however do a better job with the on/off switch, which is much firmer than the Blinky 5′s, keeping it from turning on by accident in your pack.