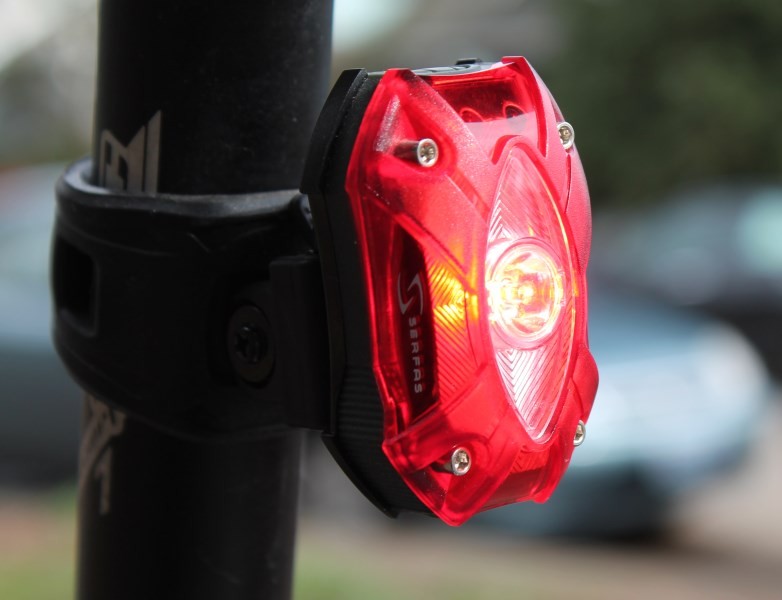 60

claimed lumens

65

measured lumens

2h 20min

reported battery life

1h 20min

measured battery life
74 g
flashing mode
no pulse mode
2 brightness levels
internal Lithium batteries
mini usb rechargeable
Included mounts: Strap, Screw
Review:
Well-designed and absurdly bright
Review by Nathan Hinkle, Sept. 3, 2013, midnight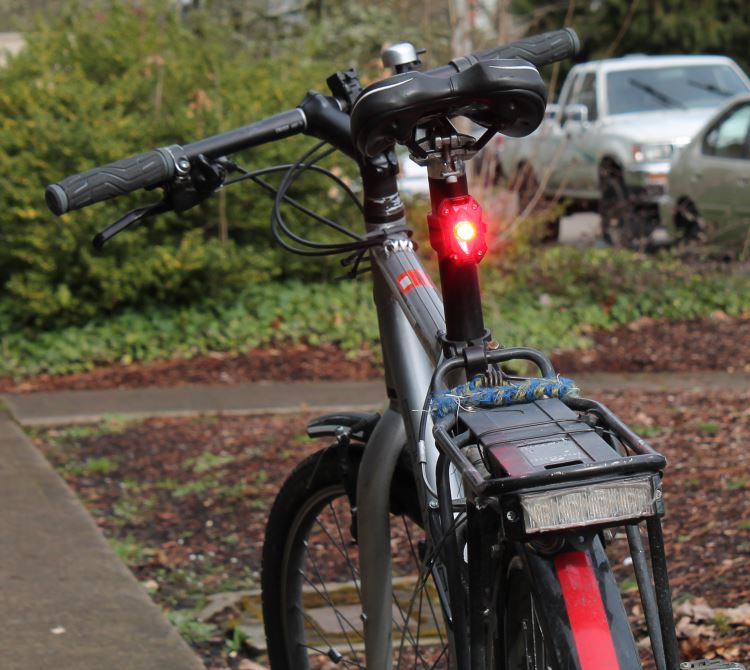 This light is truly amazing – it's by far the brightest light you can find for under $75, and even outshines some more-expensive lights. It lasts 2 hours on maximum brightness at 60 lumens, and should last about 4:30 hours on the misleadingly titled "low" setting of 35 lumens. Riding with a group at night, I actually wished there were a super-low mode – it's frankly too bright in some situations. I would be hesitant to even use the brightest setting at night unless on a very busy road.
This light's also great for daytime visibility: it looks brighter in broad daylight than many lights look at night. Even in direct sunlight it's very attention-grabbing. I've been told by people on other bikes that they thought there was a motorcycle ahead of them and didn't even realize it was a bike light at first.
Unfortunately, all that light is focused into a fairly narrow area. The beam has a definite hot spot, and although it's still bright from the sides because there's just so much light being put out, it doesn't have the even spread side visibility of a light like the L&M Vis 180 or Serfas' own Thunderbolt.
The battery life is also short when run at maximum brightness. At half brightness it'll run for close to 4 hours though, and even longer in flashing mode. The lack of a battery level indicator is a serious detriment to an otherwise great light, but fortunately Serfas plans to add a battery level indicator when the new TL-80 comes out.
In addition to the simple and sturdy seat post mount, the light also comes with a simple rack mount. It's attached by a single screw directly into the light, which means the light isn't easily removed from the bike. For those of us who park our bikes in high-theft areas, this essentially negates the rack mount option, and it also requires pulling out a screw driver to take the light inside and charge up.
Nevertheless, this is still one of the brightest lights I've ever reviewed, and at $60 is very reasonably priced for this level of output. If your commute involves busier roads where you need visibility from a long distance, this may be the best light for you. If you don't need quite this much output, something cheaper may suffice, but it's a solid choice for any ride.