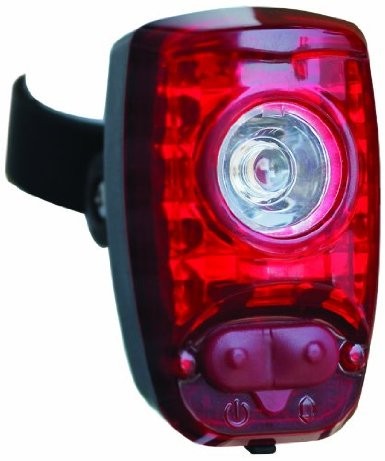 4h 30min

reported battery life

4h 45min

measured battery life
55 g
flashing mode
pulse mode
10 brightness levels
discontinued
internal Lithium batteries
low battery indicator
mini usb rechargeable
Included mounts: Seatpost
Optional mounts: Stay , Rack
Review:
The first USB-rechargeable taillight
Review by Nathan Hinkle, March 5, 2012, midnight . Updated Sept. 23, 2015.
Note (Sept. 2015): The original Hotshot 2W is now discontinued. The new Hotshot 50 is nearly identical, but the flash mode outputs up to 50 lumens. In steady mode both lights output 30 lumens.
---
This is the only light I could find with a 2W LED, and this thing is bright. Or not – you can actually adjust the brightness and flash frequency on the go, which is one of its many compelling features. The Hotshot is powered by an internal rechargeable lithium-ion battery, which gives it an impressive runtime between charges, and has 4 different flash modes: single-flash, triple-flash, single-pulse, and an alternating bright/dim pulse. The flash frequency can be adjusted for each mode, and in solid mode the adjustment increases/decreases the brightness of the beam. The package is offered with two versions: one comes with a USB charging cable (compatible with any computer or standard USB power adapter), and the other comes with the cable and a wall charger adapter. Almost everyone has a computer with USB ports or an existing cell phone or light charger with a USB adapter though, so I recommend saving $6 and getting the version with just the cable.
Riding around with this light, I notice a drastic difference compared to the others I tested: I can see it reflecting off of signs from as far back as the contours of the land allow. Sometimes I can see a reflection even in daylight. This light is the brightest you can find for under $50 (or under $150, for that matter). The battery also lasts a ridiculously long time – on the triple-flash setting with the default frequency, it lasted for 120 hours before dimming. If you recharge it even once a week, you'll almost certainly be fine. Because the battery is not user-replaceable though (and thus can't be swapped out on the road), make sure to charge it before long rides, or have a backup light, because you'll be out of luck if it dies on the road. You can also find portable USB rechargers which could provide backup power if necessary.
This is a great light, but there are a few downsides. First of all, the mounting mechanism sucks. It's the worst of all the lights I tested. The screw is small, making it hard to install. The notches in the clip are small and weak, meaning that it doesn't take a big bump to push the light out of position, and every time this happens, the grip loosens until you have to pull out your screwdriver again. Some other online reviews have mentioned people dropping the nut for the mount or having the light fall off completely. It's disappointing that such a great light could be diminished by such a terribly weak mounting system.
The control buttons are also a pain to use. Because the speed adjust button is right next to the power/mode button, it's hard to operate properly with gloves on. Turning the light on only takes a single press (not a hold-and-press like some lights), but the button is hard enough to press that you won't be turning it on by accident. Unfortunately, turning it off is not easy – you have to hold down for more than 2 seconds until you see a brief final flash. If you release before then, it just changes modes. This type of system is common and useful, but the timing of the Hotshot is frustrating compared to others. The mode adjust button is also annoying – for some reason, there's only one button to adjust both up and down. I still haven't quite gotten the hang of it, but it seems that pressing and holding will lower the rate/brightness, and letting go and pressing and holding again will raise it. It's kind of hard to tell though. When doing the brightness tests, I was initially disappointed to see a very low value for this light. Turns out, I just hadn't cranked it up to full power, because the programming button is so finicky. This light would be much better with a separate up button and a down button for adjustment, or a rocker switch with an obvious up and down position.
Despite the issues with the mount and buttons, this light is without a doubt the best bang for your buck. At $40 MSRP, it's more expensive than most, but I was able to find it for as low as $25 online, a very good price for so much light. The ability to reprogram the frequency and brightness is particularly appealing for those of us who ride in varied environments. When you're on a group ride, you can set it to solid mode and turn the brightness down low to avoid blinding other riders; when you're biking in traffic, you can crank up the frequency on a bright flash setting. In using this light, I've come to really enjoy this flexibility, and so have the people I ride with! I would highly recommend this light for just about anyone.
Update, November 2013: Cygolite has released an updated version of the Hotshot with redesigned buttons, a low battery indicator, and sturdier mounts. I haven't tried the new light in person yet, but I did get the new mount from their small parts store, and it works with the old hotshot as well. The redesigned mount uses larger screws, and has separate screws for adjusting the tightness on the post and the level of the light. The redesigned mount fixes essentially all problems with the old mount.