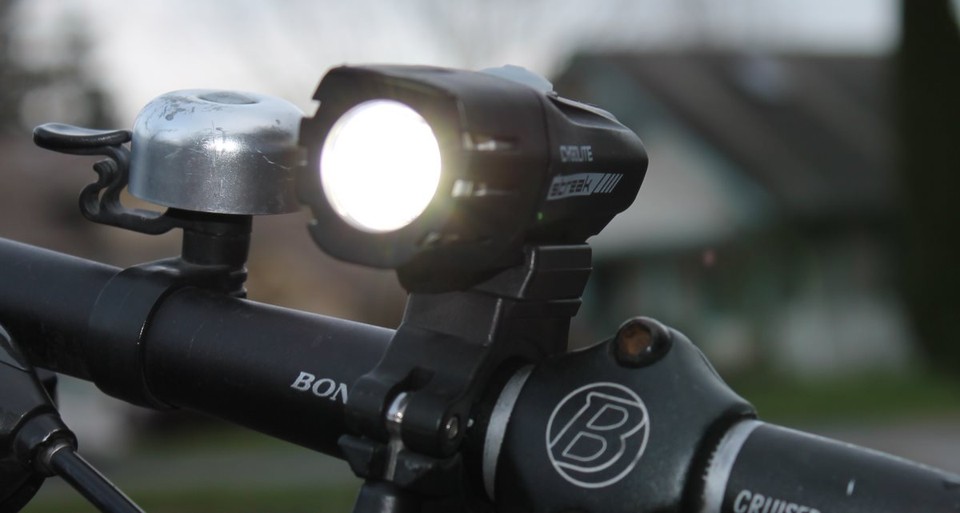 280

claimed lumens

1h 30min

reported battery life

2h 30min

measured battery life

Spot
90 g
flashing mode
no pulse mode
3 brightness levels
discontinued
internal Lithium batteries
low battery indicator
micro usb rechargeable
Included mounts: Slide-on
Optional mounts: Helmet
The Streak series is Cygolite's compact headlight series designed for commuters.
The Streak 280 is a miniaturized version of Cygolite's Metro series lights. Weighing just 90 grams, it's significantly smaller than the Metro lights but still puts out 280 lumens in steady mode and up to 500 lumens in day lightning mode. With side visibility ports, Cygolite's steady-flash and day-lightning modes for 24/7 visibility, and USB recharging capabilities, the Streak 280 is the ideal choice for commuters. The Streak 280 was recently discontinued, and has been replaced by the Streak 310 which is the same cost but with a higher output.
Review:
Streak series debut impresses with a powerful punch in a small package
Review by Nathan Hinkle, Feb. 18, 2014, 8 a.m.
I was impressed with the Cygolite Metro 300 when I first reviewed it last year, and the Streak 280 packs all the same features (plus some new ones) into a smaller, lighter, cheaper package.
Don't let the Streak's small size fool you. It's only 3 inches long and weighs just 90 grams, and at 280 lumens it won't be lighting up the woods for off-trail riding, but it's a great light for commuting, road biking, and riding around town. It was bright enough to illuminate debris on city streets and to ride comfortably on unlit bike paths. The Streak lasted a full two and a half hours at maximum brightness on its built-in USB rechargeable battery. In flashing mode it could easily run all day.
Speaking of flashing mode, all of Cygolite's recent products have a new mode called "day lightning", which boosts the LED's output to a minimum of 500 lumens for fast, intense flashes. Cygolite's testing indicated that an output of at least 500 lumens would grab attention even in direct sunlight, and my own testing confirms that the Streak outshines any other light in this price range when put into day lightning mode.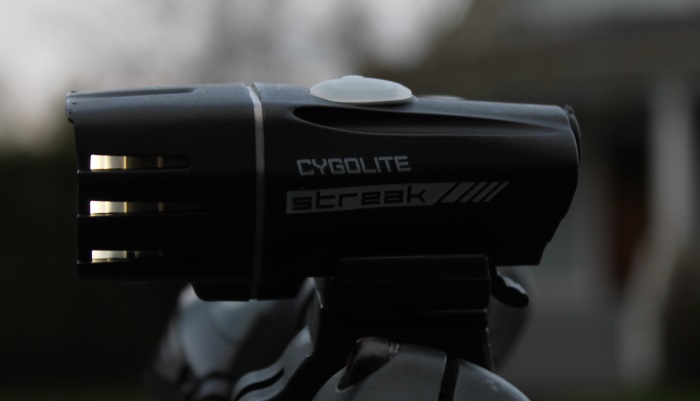 Cygolite's recent lights also feature "steady-flash", which leaves the beam turned on between quick pulses of the light. The result is that you can still see your way, but the pulsing enhances visibility. In my experience using the Streak, the pulse can be somewhat distracting, but much less so than a constantly-flashing light. From observing other bike commuters with Cygolite products, the pulse is noticeable, but I always noticed the presence of a light before I noticed that it was occasionally flickering. Overall I'd say that steady pulse vs. a standard non-flashing beam is a tossup, but it's a nice feature to have regardless.
The Streak also has cut outs to enhance side visibility. They're not as prominent as Light and Motion's side lighting on the Urban 700, but they're better than a lot of lights that don't have any side visibility.
This light is quite durable, too – I dropped it quite a few times during testing and it held up fine, and it's been through several rain storms with no issues. Unlike many AA-powered lights in this price range, there's no risk of the battery cover popping off, scattering batteries across the road if you drop this light, because everything is internal and sealed up.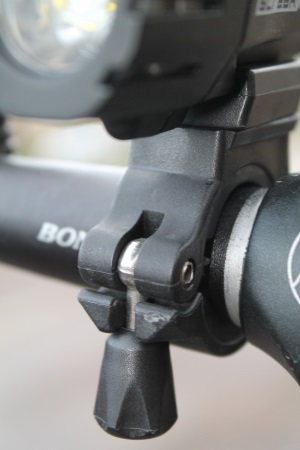 As with all of Cygolite's headlights to date, I'm underwhelmed by the mount. It's certainly adequate, but it's not great. A plastic clamp closes around the handlebars, and is tightened by a built-in screw. It's easy enough to install and adjust by hand, although the mount has a tendency to work its way loose over time. The light slides into the mount securely, and the mount can then rotate about 10° from side to side. It's not too difficult to move the mount to another bike with similarly sized handlebars, but handlebar spacing is adjusted by rigid plastic spacers that only come in two sizes. Cygolite has started including rubber shims with the mount, which can help deal with slipping problems.
At just $50 (and often on sale for less), it's a fantastic deal for a rechargeable bike headlight. The days of buying a cheap light and paying more for batteries over time than you did for the light are over – the Streak brings high-end light features to the low-price market. Especially paired with the Hotshot SL taillight in a combo pack, there's no reason not to have bright, rugged, high-quality lights.
Update – January, 2015: The Streak 280 has been superseded by the Streak 310, which has nearly identical performance specifications and design but with a higher output. The Streak 310 is also available in a combo kit with the Hotshot SL for $65-75 on Amazon.