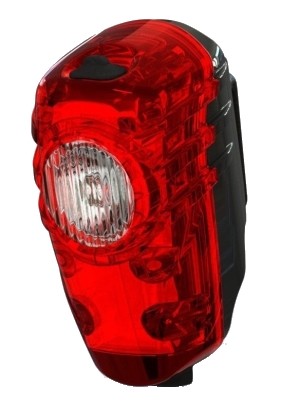 30

claimed lumens

20

measured lumens

4h 30min

reported battery life

5h 20min

measured battery life
73 g
flashing mode
no pulse mode
2 brightness levels
discontinued
internal Lithium batteries
mini usb rechargeable
Included mounts: Seatpost, Stay
Review:
Wide-angle visibility at an affordable price
Review by Nathan Hinkle, Sept. 3, 2013, midnight
With a 2W LED and USB rechargeable battery, this light is very similar to the Cygolite Hotshot – last year's light review winner – in both form and function.
Pros:
Diffusing lens makes a broader beam of light, improving off-axis visibility. However, the lens does focus the light on a horizontal plane, so you cannot mount the light sideways and must ensure that it stays aligned for maximum effectiveness.
Solid-on has a high and low power mode, but is not incrementally adjustable like the Cygolite Hotshot.
Sturdy mount.
Best battery life of the rechargeable taillights (5:22 on brightest solid mode).
Cons:
No rack mount available.
Mount is not easily transferable between bikes.
Light does not remember flash mode when turned on.
No battery level indicator.
The Solas is very similar in many ways to one of our other favorite taillights, the Cygolite Hotshot. The key difference is with the lens: the Hotshot projects a very intense beam straight back, but has poor off-axis visibility. The Solas has a diffusing lens that spreads the light horizontally, making it not quite so bright directly behind (20,000 vs. only 7,000 lux measured in my tests) but much better at off-angles (1300 at 45° for the Solas compared to only 600 at 45° for the Hotshot).
Although the Hotshot looks more impressive by sheer numbers – 20,000!! – the Solas is probably the more effective light, at least when used alone, since cars don't always approach from directly behind. One of the recommended setups for 2 taillights is a Hotshot in steady-burn mode and a Solas in flashing mode: this gives you the long-distance visibility and distance tracking advantage of a solid light, while grabbing people's attention from off angles with the flashing light.