80

claimed lumens

85

measured lumens

2h 00min

reported battery life

1h 45min

measured battery life
flashing mode
no pulse mode
2 brightness levels
internal Lithium batteries
low battery indicator
micro usb rechargeable
The latest update to our favorite Serfas Shield series, the USL-TL80 boosts the previous edition's output, adds a battery level indicator, and features two LEDs with diffused optics.
Review:
TL-80 offers substantial improvements over the TL-60
Review by Nathan Hinkle, May 15, 2014, 8 a.m.
I'm a big fan of the Serfas TL-60 – it's really bright, sturdy, has decent battery life, and is easy to use. It had a few problems though: primarily a very narrowly focused beam, and no warning when the battery drops. The new TL-80 is a significant upgrade, addressing some of those problems.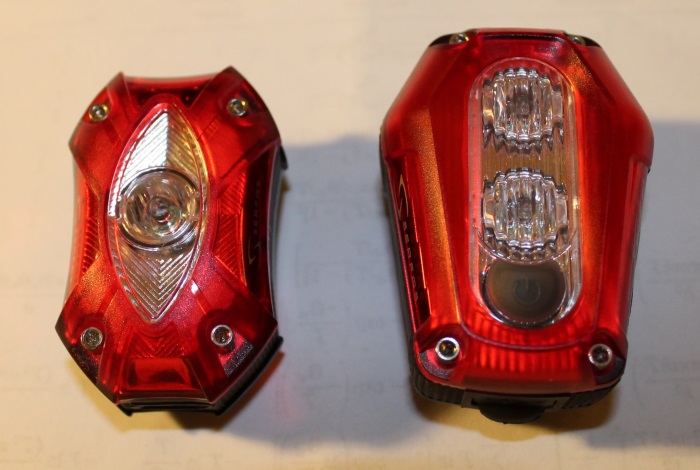 Beam & optics
First, let's talk about beam pattern. Many lights – including the TL-60, and many popular lights like the Cygolite Hotshot and the Planet Bike Super Flash – have very intense but narrow beams. They form a bright spot that's visible from a long distance when viewed straight-on, but quickly loses intensity from any other angle.
The TL-80 implements a diffusing lens that spreads the light out horizontally. The resulting beam is wide and smooth, with far less light being wasted towards the sky and ground, and more visible from off-angles. The difference is immense: while both the TL-60 and TL-80 appear about the same brightness when viewed directly from behind (the TL-60 might even be a bit brighter here), the TL-80 is far brighter from every other direction.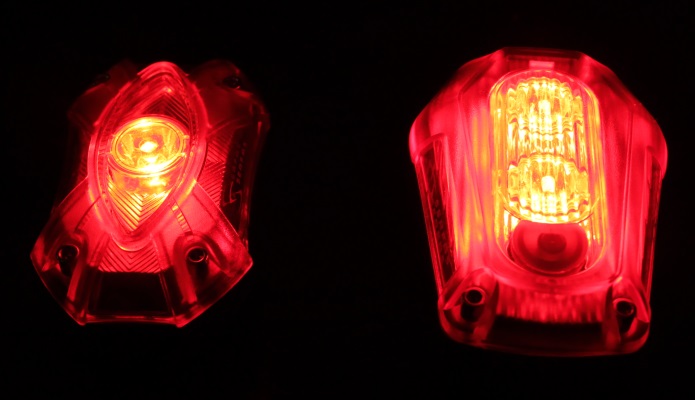 I think this is the greatest development of the TL-80, because a super-bright light pointing straight back doesn't help you as much when somebody is approaching around a corner, or a couple lanes over. Additionally, the total illuminated area is larger than on many other lights, and a larger target is easier to see from a distance. However, Serfas did miss an opportunity here. The TL-80 features two separate LEDs. They could have hit the sweet spot by having one LED output a narrow, long-distance beam to catch attention from a mile+ out, and had the other be the wide-angle beam to maintain that spread of light.
Mounting and ease of use
The TL-80's mount is simple and secure. A large rubber strap wraps around the seat post (or anything else available), easily adapting to any tube diameter. The light can be angled up or down without using tools, although a screw is present to tighten down if necessary. No tools are required to mount the light, and it takes but a few seconds to pull the whole assembly off and put it back on, making it easy to take the light with you.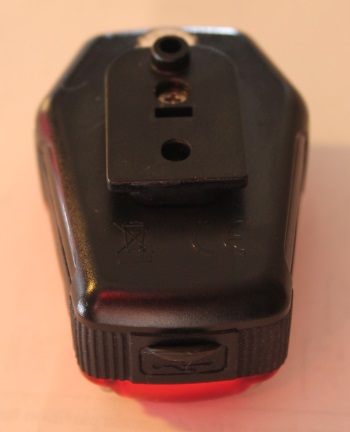 There's also an included (but not built-in) backpack clip. It's not very convenient to use, as it has to be removed before putting the light into its normal mount, and the clip sticks out from the back such that the light hangs down at an angle. The light also has a screw hole for rack mounting, but I would advise against using this. The rack mounting is semi-permanent, but it would be easy to steal with 30 seconds and a screw driver, and is an added inconvenience when you need to bring the light in to charge.
The button on the TL-80 is also very easy to use – much improved from the TL-60's small and hard to reach button. The TL-80's button is on the front of the light, below the LEDs. It's large, tactile, and makes a satisfying and noticable click when pressed. I've carried the light in my backback for a week and haven't had it activate accidentally yet, but there is no button lockout mode.
The biggest downside from an ease-of-use standpoint is the weight. It comes in at 82 g (vs. 61 g for the TL-60 and 55 g for the popular Cygolite Hotshot), and is also significantly bulkier than its predecessor. The extra size may be worthwhile though: as mentioned above, a larger illuminated area improves visibility.
Battery life and charging
The TL-80 fell short of Serfas's claimed 2 hours on high, clocking in at 1:45. That's not bad for such a bright light with an integrated battery, but is definitely rather short. It is an improvement over the TL-60's 1:20 battery life, but is lower than many other similar rechargeable lights. The good news is, Serfas offers a wired version that plugs into their TSL-2500's external battery pack. Unfortunately, the TSL-2500 itself is quite expensive and likely overkill for most riders. You can buy the external battery pack separately but that alone costs $140.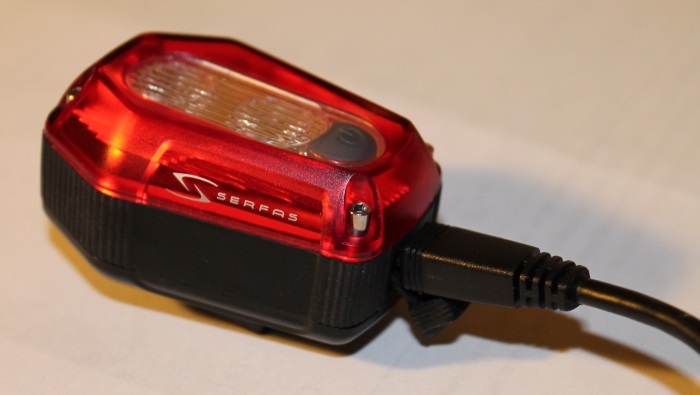 With the TL-80 and other 2014 lights, Serfas has switched to Micro USB for recharging. I think this is a great change, because micro USB charging cables are ubiquitous, whereas mini USB is harder to find. Unfortunately, the charging port is deeply recessed in the light. None of the 10 or so micro USB cables I had lying around would actually fit in the light - the connectors were all too thick. Serfas includes a thin micro USB cable with the light, but it defeats the point of using a standard when the standard plug won't fit. This is a severely limiting design flaw for anybody who charges their light in more than one place &nash; for example at work or even with a car charger.
I was excited when Serfas announced that the TL-80 would have a built-in battery level meter, but it's practically useless. The on/off switch has a dim blue LED that is supposed to somehow indicate battery level, but it's so much dimmer than the main LEDs that you can hardly even tell it's on when the light is turned on. The indicator light turns off as soon as the light turns off, so there's no reliable way to see the battery level. A green/yellow/red indicator like that on the Light and Motion Vis 180 would be much more useful, especially if positioned on the top, side, or bottom of the light were you could actually see it. The existing indicator might even be useful if it stayed on for 5 seconds after the light turns off, but as is, I almost question if I should have the "low battery indicator" box checked for this light.
Real-world use
Despite a few qualms, this light is definitely the best choice under $100 if you bike on busy roads with fast traffic. In flashing mode it's attention-grabbing from a distance in broad daylight, and it's so dazzling at night that I'd only use the lower-power steady-burn mode after dark. I've noticed that drivers slow down and pass with more space when I use this light, compared to many other popular lights. It's sturdy, bright, and mostly easy to use. The TL-80 is probably overkill for casual riders, but if you're frequently in busy traffic, this may well be the light for you.