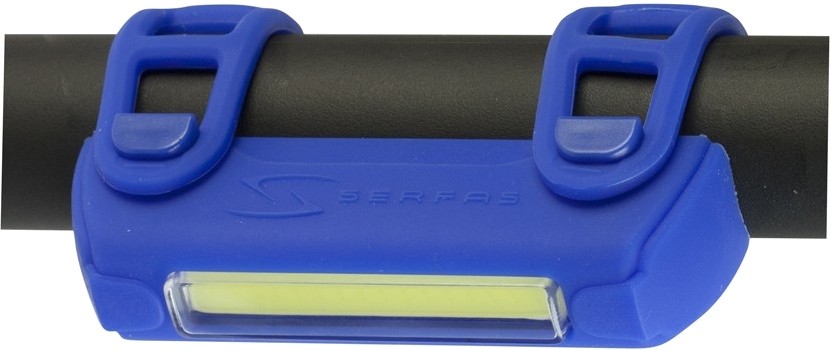 90

claimed lumens

100

measured lumens

1h 30min

reported battery life

1h 30min

measured battery life

Be-seen
50 g
flashing mode
no pulse mode
2 brightness levels
internal Lithium batteries
low battery indicator
micro usb rechargeable
The Serfas Thunder series lights originated with the Thunderbolt headlight and taillight; among the first bike lights to feature a large array of micro LEDs. Variations on the original Thunderbolt are now available in different performance and output ranges.
Review:
A bright, wide-angle be-seen light with a novel mounting system
Review by Nathan Hinkle, Sept. 12, 2013, midnight
Pros:
USB rechargeable.
Unique design: very wide angle visibility makes it a great be-seen light.
Versatile mounting (could also be a con depending on where you want to put it, but I think you could find a spot on almost any bike).
Easy to get on and off the bike quickly.
Cons:
Not great for seeing the road – mostly just designed for being seen.
Short battery life at full brightness.
Despite the short-lived battery, the Thunderbolt was one of the lights I was most excited to test out, and it exceeded my expectations: bright, mountable almost anywhere, and excellent off-axis visibility. This light is definitely a very unique design, and I can see many applications of it, especially for biking in an urban environment where side-lighting can help with safety: you could strap one of these on each side of your bike to help cars see you from off-angles. There is also a red taillight version available, which makes for a nice set.